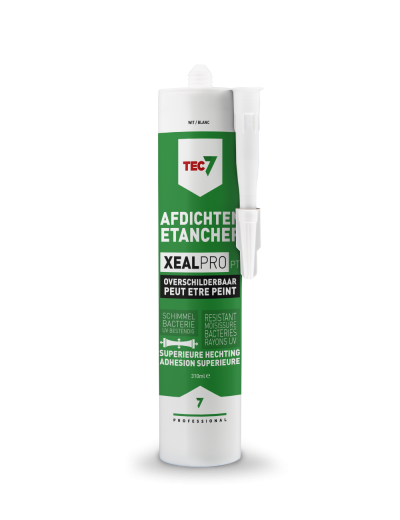 XealPro PT - The new generation all-in-one sealant
The safe choice for any kind of sealing work.
One sealant to replace all others: sanitary silicone sealant, building mastic sealant, draught-excluder caulk, glazing sealant, natural stone sealant, silicone sealant, concrete sealant, etc.
| Color | Package |
| --- | --- |
| White (RAL 9003) | 310 ml PE cartridge |
Features
XealPro PT combines the professional attributes of Tec7 with excellent ease-of-use. XealPro PT adheres perfectly to almost all building materials and can be used safely everywhere: on natural stone, mirrors, sanitary ware, kitchen worktops, etc. It is fully CE certified for all these applications. XealPro PT can be painted over perfectly.
This new generation sealant is based on eco-friendly technology and is free of solvents, ftalates and acids.
Why use XealPro PT?
Universal and durable sealant for virtually all substrates and materials
Natural stone sealant for very porous stones such as marble, granite, limestone, concrete, masonry, tiles, borders, windowsills, worktops, countertops, lintels, door sills and slabs
Sanitary sealant for mould-resistant joint sealing in sanitary facilities and wet rooms
Fungi- and bacteria-resistant: ideal for air ducts and HVAC
Building mastic sealant for connection and expansion joints in construction and industry applications
Mirror adhesive/sealant
Sealing of façade and structural elements such as façades, shopfronts, casings, windows, panels, prefabricated elements, etc.
ISEGA food contact approval: suitable for use in the food- and hospitality industries
Air sealing in AEN- (almost energy-neutral) and ecological 'passive construction'. Very low emissions: Emicode EC1 Plus / VOC emission class A+
Instructions
Minimum application temperature from +5°C to +40°C.
Apply onto a clean, dry and stable substrate.
If necessary, clean with Tec7 Cleaner and/or Multiclean.
Apply with a manual or pneumatic caulking gun (best with a telescopic plunger). Test the adhesion to plastics, powder coatings, exotic woods and bituminous materials. Start by strengthening weak and/or porous substrates with Fixprimer. Use Tec7 Cleaner to clean and degrease safely, obtain the perfect finish and to remove uncured Tec7 products. Use HP Clean to finish porous materials. Alkyd resin paints will cure at a slower rate.
XealPro PT
The new generation all-in-one sealant
Base: hybrid MS polymer.
Odor: neutral.
Shore-A-hardness (DIN 53505): 32.
Module by 100% elasticity (DIN 53504 S2): ± 0.6 N/mm².
Elongation at break (DIN 53504 S2): ± 600%.
Elastic recovery (DIN EN ISO 7389): >60%.
Tensile strenght (DIN 53504 S2): ± 1.6 N/mm².
Movement capacity: 20%.
Consistency (DIN EN ISO 7390): stable till ≤ 3mm.
Curing: in contact with air humidity.
Application temperature: between +5°C and +40°C.
Skin cure at23°C/ 50%R.H.: max. 30 min.
Full cure time at 23°C en 50% R.H.: after 24 h.: ± 2.5 mm .
Volume shrinkage after curing (DIN EN ISO 10563): ≤3%.
Paintable: yes.
Density at 23°C/ 50% R.H.: 1.38 ± 0.05 g/cm³.
Temperature stability (fully cured): from -40°C to +90°C.
Frost resistance: till -15°C during transport.
Shelf life: 18 months, kept dry and cool in closed original packing.