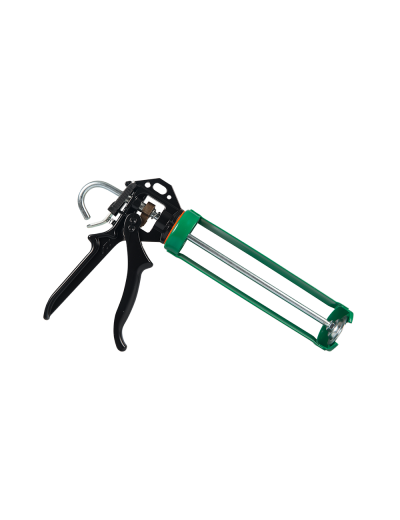 Tec Gun - Professional ergonomic tube gun
Ergonomic design
High power transfer
Long-life product
Features
The Tec Gun is used for squirting most products in the tube, irrespective of the viscosity, and even for two-part products with its 18:1 pump ratio.
The Tec Gun has a pre-tensioning option to enable clean finishing.
The Tec Gun has a pressure rod in stainless steel with suspension hook.
The Tec Gun has a strengthened transmission system.
The Tec Gun is ergonomic in use due to its perfect balance and a turning butt to keep the nozzle in the correct position.
Instructions
Cut cartridge open and screw on the nozzle.
Cut off the nozzle to the required size.
Place the cartridge in the holder (extractor at the back).
The black lip on the de-tensioner has two options: downwards for a continuous pressure, recommended when working with hard products such as X-Tack, and upwards for slight withdrawal to limit the running of softer products such as Flex.
Tec Gun
Professional ergonomic tube gun